You've probably seen photographs where the main subject is sharp and the background is out-of-focus or blurry which creates a dramatic effect. Dictionary.com defines bokeh as "a Japanese term for the subjective aesthetic quality of  out-of-focus areas of a photographic image."
On this tutorial, the talented Vermailene Barrios shows us how to create these round circles of different colors and use as a background for coloring pages.
Vermailene used this lovely I Heart Me page from HEALTHY HUE, a Coloring Health & Fitness Journal with Positive Affirmations.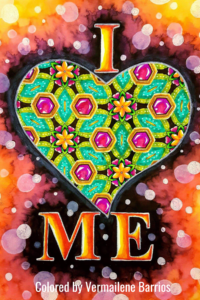 She achieves a bokeh effect by creating layers of colors similar to the galaxy background except for the last part where she creates different circles instead of adding stars.
Here are the materials she used:
I Heart Me (Simple version) from HEALTHY HUE by Maria Castro- http://amzn.to/2kagB2m
Or get the single page here – https://gum.co/eKMtk/
Maped Helix USA Color'Peps Smoothie Gel Crayons, Pack of 12 – http://amzn.to/2kOzjOP
Caran D'ache Museum Aquarelle Watercolour Pencils – White – http://amzn.to/2kapV6n or any white watercolor pencil
Prima Marketing Watercolor Confections: The Classics – http://amzn.to/2kOvw44 or any white water color pencil
Uni-ball Signo – http://amzn.to/2lxqLf2
Zig Detailer Watercolor Brush – http://amzn.to/2kOlakF
Enjoy the full tutorial here: https://m.facebook.com/story.php?story_fbid=1699124640384802&id=1526876080942993
Maria Castro of ScriboCreative.com is a participant in the Amazon Services LLC Associates Program, an affiliate advertising program designed to provide a means for sites to earn advertising fees by advertising and linking to Amazon.com.